Big Brother & other forms of control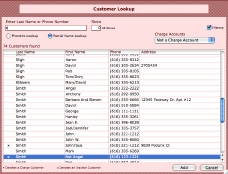 You've got to know what is going on in your organization. Both in terms of measuring key performance indicators, and controlling assets such as cash and inventory.
Sheldon Cleaners has 30 retail locations, each staffed by minimum wage workers. Theft is an occasional, yet recurring problem. Both money and clothes are targets. An exact over or short deposit amount can get confusing when corrections to other mistakes are included in the daily deposit process. The key was to separate the procedural changes from the actual overages and shortages. The procedural changes tended to have/be a correcting entry for a matching entry and net to zero in a day or two. Now when you look at this information over time, both columns should net to zero, and it is easy to spot discrepancies.
The clothing dropped off for cleaning is also a target for theft. To detect clothing theft, and provide a visible office presence, a inventory control person visits each location and scans the bar code on each order, using a hand held scanner. That information is fed into the point of sale system and a detailed report of missing orders is printed. In addition to an accurate inventory, additional procedural monitoring helps maintain a tight ship.
Even with a good solution, it still takes people to make it work correctly. Keep on top of it and you know exactly where you stand at any given moment. Quit paying attention and you will soon have chaos. Sheldon Cleaners has found that it easier to stay on top of things, knowing exactly where you stand at a given moment, than be sloppy, and constantly trying to figure things out. Creating normalcy from chaos is a lengthy and time consuming process.

Other forms of control include productivity and performance measurement. In the main plant, garment pressing counts by employee and garment type measure productivity and provide a detailed cost analysis that will support the ultimate goal of piece work. Just by refocusing attention on performance, numbers have improved.
Each garment is scanned as it passes through the inspection area. In addition to the counts at the end of the day, the software can see the large gaps of time that represent breaks, allowing for more accurate performance data. And everybody knows how long everybody else is going on break, a great deterrent.
Rather than an ad hoc reporting system, Sheldon Cleaners has a well defined reporting structure. The column labeled 'Sales' on the 'Labor Report' has a supporting report that takes several columns of more detailed information to explain exactly what 'Sales' is. Each report is a piece of an overall reporting structure, supported by, or supporting, some other part of the structure. When all of the pieces are put together, you have an accurate representation of Sheldon Cleaners.